Expert Exchange
LIVING
A major maestro with a miraculous, mystical inner metronome

The Philanthropist and the Arts
Dear Philanthropist,

As you know, in the day-to-day pace of having a career, we experience many situations that can be described as extraordinary, but are quickly lost in the daily energy and deadlines of the workplace, in this case an opera house. The following recollection, about Maestro James Levine, is one of those stories. At the time it happened, all my colleagues and I realized that it was extraordinary, and then we went on producing Live from the Met. In retrospect, this event was a demonstration of a superior sense of tempo, inherent in this unique conductor, built into his enormous talent. The story is told from my memory. The tale is true, but perhaps the exact number of frames is different. As they never say in opera, "Take it as Gospel!"

The Met

Les Troyens (The Trojans) by Hector Berlioz opened the Metropolitan Opera's Centennial Season in 1983 under the baton of Mo. Levine with international superstar singers Plácido Domingo as Aeneas, Jessye Norman as Cassandra, and Tatiana Troyanos as Dido. The classic opera was selected by the management to be part of the prestigious public television series Live from the Met, in the days when Live was Live.
My title was Producer, which essentially meant that I was responsible for putting together all the pieces necessary for a state-of-the-art stereo film of the performance. As the line producer, I provided the elements that were needed for a complicated production scenario, collating the schedule of a live performance venue, which performed seven operas a week in front of a live audience, with the equipment, technology, and specialists required to transmit a live stereo simulcast from the stage of the Met and, in this case, on opening night. I was also charged with the intense deed of budgeting and staying on budget.

As you can imagine, timing was a major overriding factor. It not only had implications of getting on and off air on time, but also dictated the payments to musicians, stagehands, camera people, and technicians.

Our mission was simple: interfere with the live stage production as little as possible in order to produce a quality media event and maintain its theatricality. Singers were not directed to a camera or microphones. Lighting levels were adjusted as minimally as possible to accommodate the low light level cameras, which were not nearly as sensitive as today's models. If we were successful, the audience would barely be aware of our presence, and we would have transmitted a live performance to hundreds of PBS stations across the country in real time. The resulting video tape would be used for a rerun and an archival recording of a superstar cast in an iconic opera.

Days after a camera run-through at a regularly scheduled Met stage rehearsal, opening night was upon us. On that festive eve, Mo. Levine burst into the orchestra pit with his usual optimistic gait, and, as always, to thunderous applause. After a bow, he turned to the orchestra, raised his arms for the downbeat — the gold curtain went up, and we were off to the races. Keep in mind that Les Troyens was being presented in its full uncut version, a five and a half hour performance that included three intermissions.
The 90-minute long first part went well and the first intermission took place as planned. So far, so good. Then… In the middle of the second act a horrible technical glitch knocked us off air. It was a doozey. The electric panel that powered the television studio truck short-circuited and we were in absolute darkness. All recording stopped, as did transmission. There was a sense of panic. Those trucks are designed to eliminate any ambient light that could affect what one saw on the screen. Therefore, it was pitch-black dark inside. When the doorknob was finally discovered by a crew member, we all sheepishly exited the truck down its metal stairway onto the streetlight illumination of Amsterdam Avenue.

What had caused the outage was an electric arc between two bolts holding down power cables. I remember thinking that the arc of electricity was visually similar to what Benjamin Franklin had seen on that fateful evening when he flew his kite and key in his monumental electrical storm experiment.

The Met electric crew was nothing short of heroic that night, as they jumped into action like the well-trained team they are. They almost immediately appeared with a fire extinguisher, doused the flames, reconfigured wires, retightened the bolts, and we were up and running again. The opera recording continued from that point as planned, but there was a hole equal to the time that it took to repair the power source. Approximately eighteen minutes of the opera was missing on our tape. (To be exact, it was eighteen minutes, five seconds, and sixteen frames. A television picture consists of 30 frames per second.)

So, what to do? We decided that we had to record the missing segment in the next and final performance of the opera. To do this we needed permission from each union, which we received without much resistance. All forces at the Met knew what was at stake.

The technical issue was that if Mo. Levine conducted the missing link more slowly, we would have to speed up the tape to conform it to the existing film, thereby raising the pitch. On the other hand, if he conducted it faster than the original performance, we would have to slow it down, thereby lowering the pitch. There were some techniques and equipment that could assist us in this heinous chore, but it all seemed so iffy.

The next performance came; we cued tape machines and cameras a minute before the treasured missing segment arrived and we taped it. We taped eighteen minutes, five seconds and sixteen frames of Les Troyens, the tempo dictated by the internal clock of Mo. Levine.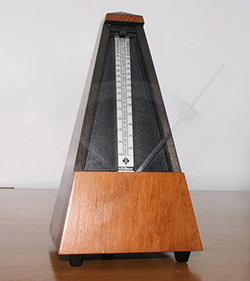 The next day, we gathered in a post-production studio to assemble part 1, the newly taped segment, and part 2 to build the complete opera. Those of us who were believers were not shocked but still overwhelmed by the fact that the eighteen minutes, five seconds, and sixteen frames were accurate to the frame, i.e., James Levine's timing was exactly the same to the frame, to the thirtieth of a second, as it had been in the previously filmed performance. Once again, accurate to the thirtieth of a second.

To most of us, time is a medium that slows down and speeds up according to our experiences, according to our own inner clock. Didn't the day go quickly? Is it spring already?

In James Levine, the Music Director of the Metropolitan Opera for 40 years, there is a metronomic heartbeat — an inner pulse that creates a perfect and exact tempo for every opera that he conducts. You can count on it!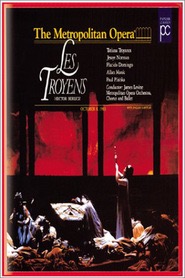 Les Troyens (DVD)
Composer: Hector Berlioz
Conductor: James Levine
Artists:
Tatiana Troyanos
Jessye Norman
Plácido Domingo
Allan Monk
Paul Plishka
Orchestra: Metropolitan Opera Orchestra
Ensemble: Metropolitan Opera Chorus
Label: Deutsche Grammophon




Copyright (c) 2016 Clemente D'Alessio.
Metronome image by Wikimedia Commons user AndonicO