Expert Exchange
PHILANTHROPY
An Army of Gardeners: The Central Park Conservancy

Dear Philanthropist,
As a result of writing this column, I have become acutely aware of the role that philanthropy has played in shaping the cultural life of New York City, which has made it an international destination as well as a wonderful place to live. If it weren't for a humanitarian visionary approach and well-placed contributions, New York City would be a radically different place. It has been these enlightened charitable forces that are largely responsible for New York's art centers, opera houses, symphony halls, museums, houses of worship, and libraries — places where people congregate for their personal betterment, entertainment, education, and spiritual fulfillment.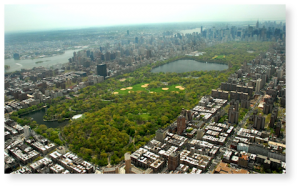 In this article, I would like to discuss one of New York's treasures, The Central Park Conservancy — a nonprofit organization that was founded in 1980 to combat the advanced deterioration of Central Park, which at the time had grassless fields, grafitti-covered walls, and decaying structures, like balustrades, as well as arid fountains. There is nothing sadder in architecture than a fountain that doesn't work! The Conservancy was created by civic-minded New Yorkers from all stations in life who wanted to improve the park. It was, and is, truly a "grassroots" movement.

My own memories take me back to a time in the late '70s, when I — a much younger I — was a production coordinator for the New York Philharmonic and Metropolitan Opera free summer concert series. My most vivid recollection is of dawn on a cool summer morning, when the trucks, many vehicles — which comprised the stage, the sound system, and dressing rooms for a concert presentation an opera with full orchestra — sped across a sand-surfaced, desert-like Sheep Meadow to the south end of the field, where they would be transformed into a faux concert hall for the evening event. I think it was the cloud of dust that they created as they flew over the barren ground that really got to me. So, it was with mixed emotions that I subsequently attended a meeting at The Arsenal, the Parks Department Headquarters, and heard Parks Commissioner Gordon Davis announce that vehicles would no longer be allowed on Sheep Meadow.

The field would be closed for an extended period and restored to its full heraldic green, fenced in to give the grass the greatest chance of survival, with a permanent watering system embedded, and (this is the good part) opened to the public at scheduled times for picnicking, tanning, kite flying, and any activity that one pleased that would respect the glorious lawn that had been installed and meticulously maintained, in what, to this day, is one of the most cherished and visited areas of Central Park.

The Central Park Conservancy was founded by a group of dedicated local New Yorkers, including some philanthropic leaders. As the Conservancy describes it on its website, "They were determined to end Central Park's dramatic decline and restore it to its former splendor as America's first and foremost major urban public space, as envisioned by its 19th-century designers, Frederick Law Olmsted and Calvert Vaux. Today, the Conservancy's mission is to restore, manage, and enhance Central Park, in partnership with the public, for the enjoyment of present and future generations."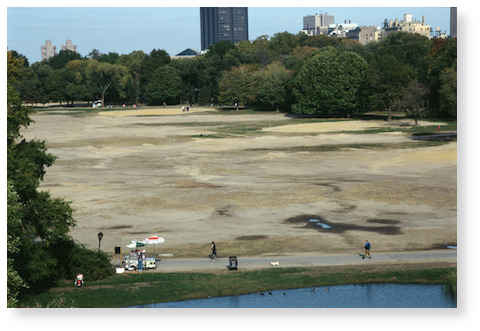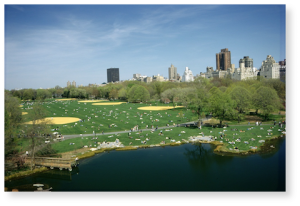 The Great Lawn — Before and After


The chores are vast, as can be seen in the following description of all the different areas of the park: Conservancy crews care for 250 acres of lawns, 24,000 trees, 150 acres of lakes and streams, and 80 acres of woodlands. They install hundreds of thousands of plantings annually, including bulbs, shrubs, flowers, and trees; maintain 9,000 benches, 26 ball fields, and 21 playgrounds, and preserve 55 sculptures and monuments, as well as 36 bridges. They also perform the thankless chore of removing any graffiti within 24 hours of the crime, and they collect over 5 million pounds of trash a year. Currently, Central Park is the most visited urban park in the United States.

The management and maintenance of Central Park is a unique relationship between New York City and a nonprofit organization a hybrid that was created with a specific mission and specific responsibilities. As the official manager of Central Park, the Conservancy is responsible for the day-to-day maintenance and operation of the Park.

Presently, 90 percent of the Park's maintenance operations staff is employed by the Conservancy, which provides the majority of Central Park's $58.3 million annual parkwide expense budget through its fund-raising and investment revenue. The City, in addition to the annual fee to the Conservancy for the services it provides, funds lighting, maintenance of the Park drives, and enforcement. The New York City Department of Parks & Recreation retains policy control, has discretion over all user permits and events in the Park, and provides 10 percent of the field staff. In 1998, the Conservancy and the City of New York signed a management agreement formalizing their then 18-year-old public-private partnership. The relationship was reaffirmed in 2006 when the agreement was renewed for an additional eight years.

"Since its founding, the Conservancy has overseen the investment of $690 million into Central Park, of which $536 million was raised from private sources — individuals, corporations, and foundations — and more than $110 million was contributed by the City. The Conservancy has also created and carried out a restoration management plan for the Park; managed the capital restoration of much of the Park's landscapes and facilities; and created programs for volunteers and visitors. It has transformed Central Park into a model for urban parks worldwide," the Conservancy website says. The Conservancy provides technical, management, and fund-raising advice to park systems around the country and internationally.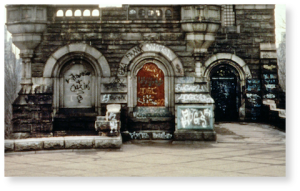 Belvedere Castle - Before and After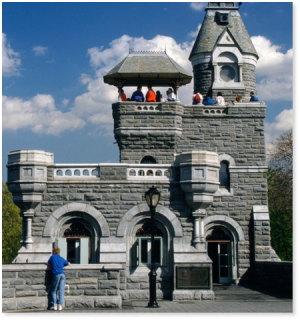 Recently, the Conservancy received a substantial donation from a neighbor of the Park. At the ceremony at which Doug Blonsky, the Conservancy's CEO, accepted the $100 million gift from the Paulson Family Foundation, the largest monetary donation in the history of New York City's park system, Mr. Blonsky said, "It ushers Central Park and the Conservancy into their latest phase: long-term sustainability, unprecedented maintenance and management, and a model for other parks and public spaces worldwide. .... More specifically, it will continue the Conservancy's restoration and maintenance of its 21 playgrounds, 130 acres of woodlands, improvements to parkwide infrastructure and comfort stations, maintenance and upgrades to its five visitor centers and recreational facilities, and the enhancement of youth and family programming. It allows us to continue to surge ahead: While we've restored much of Central Park, the maintenance of our improvements is never-ending. This gift allows restoration to continue and past improvements to endure and for us to expand our work in assisting other public parks throughout New York City."

John Paulson, who is a trustee of the Conservancy, also spoke. He had spent time in the park in his youth when the Park was not in as good shape as it is today. He eloquently described the change, saying, "Central Park hasn't always been the oasis that it is today. In the 1970s and early 1980s, it was in serious disrepair — its infrastructure was crumbling, its landscapes were in shambles, and it was plagued with drugs and crime. Thanks to an extremely successful partnership that began in 1980 between the City of New York and the Central Park Conservancy, Central Park has been magnificently restored. From Bethesda Fountain to Sheep Meadow, from the Harlem Meer to the Promenade, from Strawberry Fields to the Conservatory Garden, the metamorphosis has been extraordinary. Today over 40 million people visit a year, up 200 percent since the Conservancy took over."

Just the other day, my wife and I went on a "Patron's Tour" of the Conservatory Garden in Central Park. In this case, "conservatory" is derived from the greenhouses that originally occupied the space where the garden is located. They were in a decayed state of ill repair, so Mayor Fiorello LaGuardia initiated a WPA project to have them removed, and the space became the Conservatory Garden in 1934. This project was a cooperative one between the city and federal governments.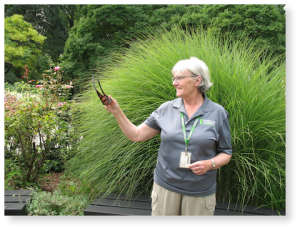 Diane Schaub, curator of the Conservatory Garden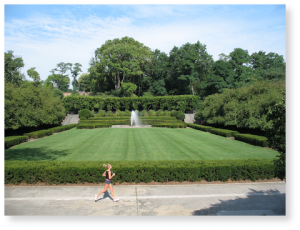 Entrance to the Conservatory Garden
The Conservatory Garden is designed and planted annually under the supervision of Diane Schaub, the garden's curator for the past 19 years. This garden is really three gardens under one name. There is an Italian Garden, which is tiered at the west end, running up to a wrought-iron semicircular pergola, adorned with wisteria; a French Garden, highlighted by a fountain flowing through the sculpture, Three Dancing Maidens (1910) by Walter Schott, donated by Samuel Untermyer's family, and reminiscent of Matisse; and an English Garden with annuals, biennials, and perennials on different sides of a winding path, each designed to counterbalance and enhance the plants on the other side of the lane.

The best part of the tour was the expertise with which our guide spoke. She was full of information and insights. Even better than that, however, was the joy that she radiated as she described how to design, what to design, hundreds of plants by name, area charts of each garden by flower, when to plant, when to cut, weather, and bulbs, bulbs, bulbs (45,000 per annum) — a truly exuberant love of her life's work. Diane Schaub embodies the enthusiasm and dedication with which Central Park is maintained and refurbished. Central Park is an idyllic hub of New York City and there is an army of workers — professionals and volunteers — who tend to it.
---
Information about Frederick Law Olmsted, who designed the park with Calvert Vaux and oversaw its construction, can be found here and here.
Copyright (c) 2013 Clemente D'Alessio.